Info for Museums and Host Venues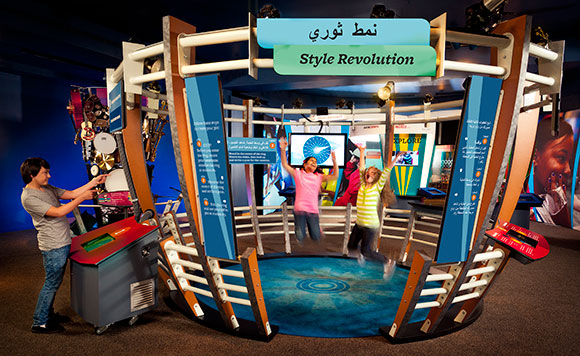 The record-breaking and extremely popular exhibition, MathAlive!, is now being produced exclusively for touring in countries across the Middle East region. This exhibition will be customized for the Middle East market and contains exciting and educational content relating to mathematics at work around the world and in our everyday lives.
About MathAlive!
Compete in a live-action snowboard race, control a Mars rover, design and play your own video game, capture your image in a 360 freeze-motion video. Experience real math at work with a range of 40 immersive interactive exhibits across sport, nature, robotics, music, movie-making and more.
At A Glance:

5,000 square feet (500 square meter) visually stunning exhibition
Target audience: Families, students grades K-12 (focus on grades 3-8, ages 7-14)
Comprehensive package of marketing, PR, education and event resources
Premiered at Smithsonian Institution, where it achieved the highest average daily attendance of any exhibit at the International Gallery in its illustrious 25-year history
Produced for Middle East Audiences
Far beyond localization of language, this exhibition…

Includes historical achievements by noted figures from the region…
Allows visitors to explore math at work today in innovative applications in the region–as well as hearing from those shaping the future…
Provides interactive exhibits that allow visitors to experience math within the cultural backdrop of Arab-centric imagery, landmarks, customs, culture and language.
Localization
Highlights Middle Eastern traditions and accomplishments, spotlighting a range of milestone historical links to the evolution of math.
Graphics reflect images of Arab children, Arabic-centric images and Middle
Eastern patterns.
Features authorities from a range of fields in and from countries across the Middle East.
Presented in dual language, with text and graphics displayed in Arabic and English.
Examples of Historical Mathematical Contributions from the Middle East
Famous historical Arab and Muslim mathematicians and scholars are featured,
demonstrating how their work and theories are still relevant today.
Modern Day Mathematics Contributions and Use by Personalities from the Middle East and North Africa
A selection of modern day personalities with roots in the Middle East and Muslim majority countries are profiled–some offering first-hand insights–about how they use math in their respective fields.
Localized Interactive Experiences
Musical Instrument…

Features a range of instruments as it explores the connection between math and music. It has been customized to include instruments played in Middle Eastern culture.
Build Your World

Visitors design a skyscraper, as they explore buildings, bridges and other civil engineering wonders found throughout the Middle East and the wider world.
Localization – Beyond the Exhibit
To further enrich the outreach effort and to engage the public most effectively, communications materials will be tailored to the preferences and needs of schools, media, and the public at large. Language-customized materials, media (in Arabic or Arabic/English), and regionalized visuals include:

Educational Materials
Marketing and Communications Materials
Tour Website
Press Editorial
Press Photography
Social Media
Beyond Arabic
The exhibition is further customizable to serve audiences with other language preferences as well and can be refined to best serve and meet the needs of all communities in the Middle East and North Africa regions.
The exhibition debuted globally at Smithsonian Institution.
The touring exhibition is underwritten by Raytheon.
No exhibition ever has better answered the question: "Will I ever use all this math they're teaching us?"
Thematic Areas:

Outdoor Action… Adventure Sports
Build Your World… Environment
Future Style… Style and Design
Kickin' It… Entertainment
Game Plan… Video Games and Other Games
Robotics and Space
Exhibit links:
Download Floor Plan
Exhibit Details:
Exhibit size: 5,000 square feet (500 square meters)
Target Audience: families, students grades K-12 (with focus on grades 3-8, ages 7-14)