Muscat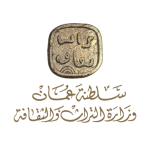 ​Muscat, Oman
Children's Museum
15 February 2017 – 13 May 2017
Sponsored by


Museum Admission Fees
Omani above age 12 : 0.500 Bz
Omani 6-12 age: 300 Bz , 100 Bz if with family
Omani below 6 age: free
Non-Omani tourists : 1 OMR
Schools students and Official delegation Free
(There is no additional admission fee for MathAlive)
Opening Dates for the Exhibition:
15 February 2017 – 13 May 2017
Opening Times for the Exhibition:
• 8am – 1:30pm (Sundays to Thursdays)
• Mondays also open 4-6pm from October to March
• 9am-1pm (Saturdays)
School Groups
​​​To schedule a school group, telephone +968 24 605368.
​​​There are special timings for school groups.
About the Museum
This museum simplifies science and technology and presents them in an animated version, allowing visitors to see the vital role played by science in various aspects of life. The museum is headquartered in two large domes in Al Qurum area in Muscat Governorate and is visible from a long way. Although this museum is called the Children's Museum, its exhibits are suitable for all ages and are presented in a simplified fashion to facilitate access to information for future generations.